Hamstrings are the muscles at the back of your thighs which is also the area that is most commonly affected by cellulite. Having strong and toned hamstrings is an excellent way to mitigate cellulite accumulated, though it's not a guaranteed preventative. But one thing is for sure, the more muscle tone you have back there, the less room cellulite has the opportunity to show its dimpliness!
Elevated Glute Bridge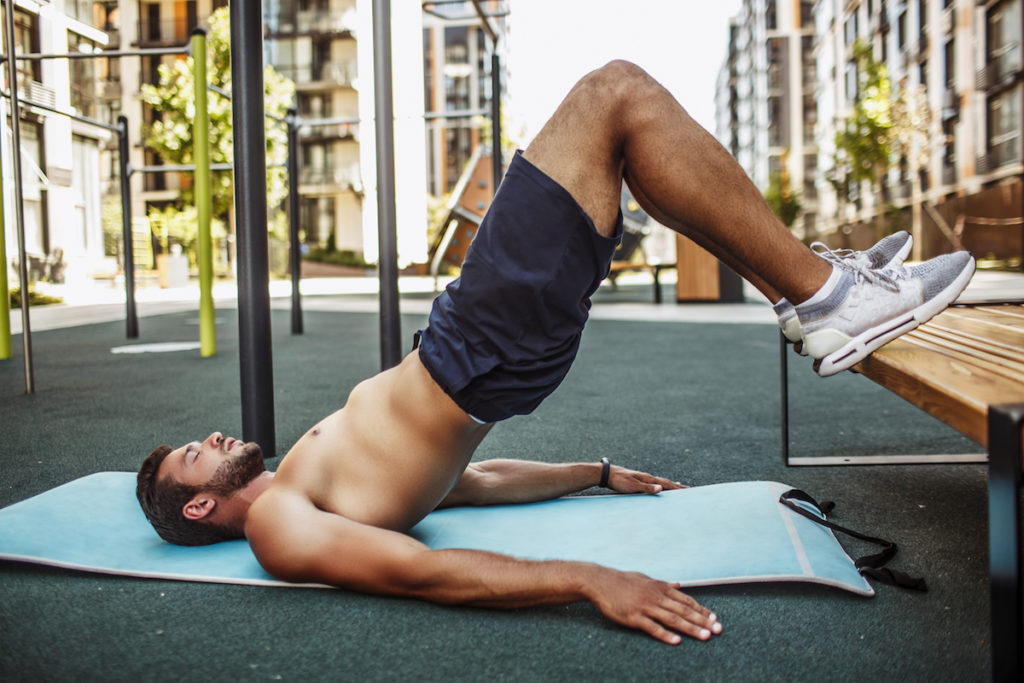 A glute bridge is great for the hamstrings and relieves the body from pain and pressure on the lower back. It can be done in many forms, including simply lying down, or for the greatest challenge on a balance ball or with ankle weights.
Instructions
Lay down on the floor with your arms laid out flat. Your palms should be facing downwards against the floor.
Bend your knees while keeping them shoulder-width apart. Keep your feet pressed firmly on the ground.
Slowly raise your hips up while squeezing your glutes to arch your back.
Hold this position for about 5 seconds and lower your hips back down.
Single-Leg Glute Bridge
The single-leg glute bridge provides similar benefits as a simple glute bridge and improves the overall strength of the lower body while also improving balance.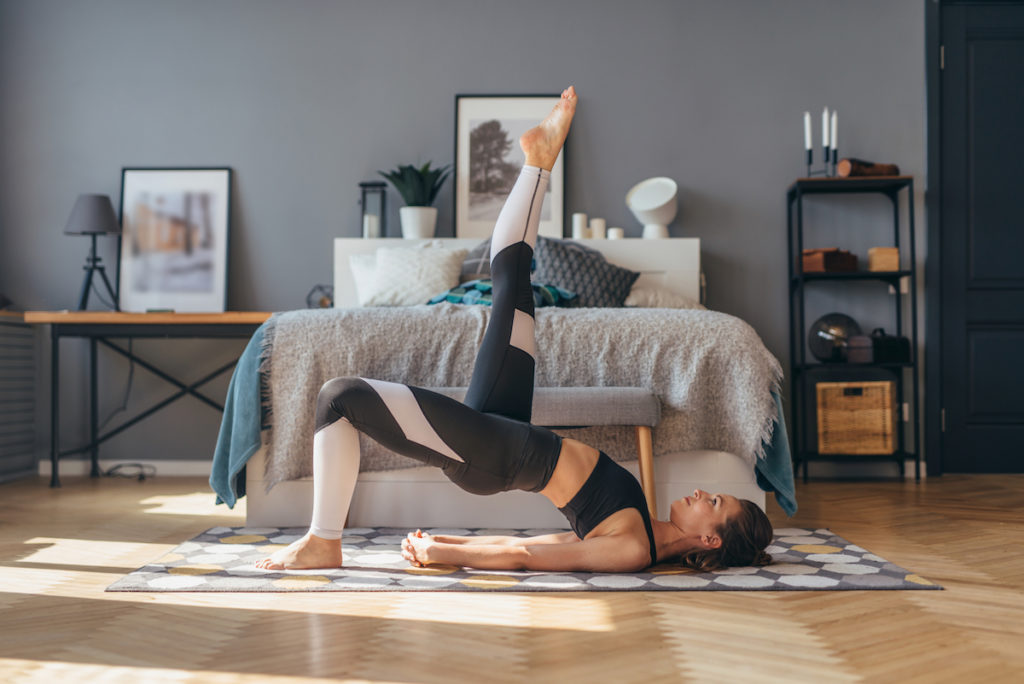 Instructions
Lay down on the floor with your palms pressed downwards and feet flat.
Bend your knees while keeping them shoulder-width apart.
Raise your hips off the floor along with your left leg while keeping it as straight as possible.
Hold this position for a few seconds and slowly return to the original position.
Repeat this exercise 5 times and switch legs.
Dumbbell Deadlift
This is another great workout for the hamstring. It builds strength and improves muscle coordination as well. The heavier the weights the greater the muscle mass will accumulate. But be careful not to go too heavy too soon otherwise you risk a back injury.
Instructions
Stand straight, keeping your feet slightly apart.
Place your dumbbells on either side of you with your palms facing inwards.
Slowly lower one arm while holding the dumbbell towards the opposite foot.
Stretch out the other foot while keeping your back straight.
Extend your hips until you feel the stretch and hold for a few seconds.
Switch and repeat this exercise 5 times.
Squat with Bands
If you train regularly, you will definitely be familiar with squats. Squats have amazing benefits and can do wonders for the body if done correctly. Try incorporating an exercise band to give you a greater challenge and muscle-building power!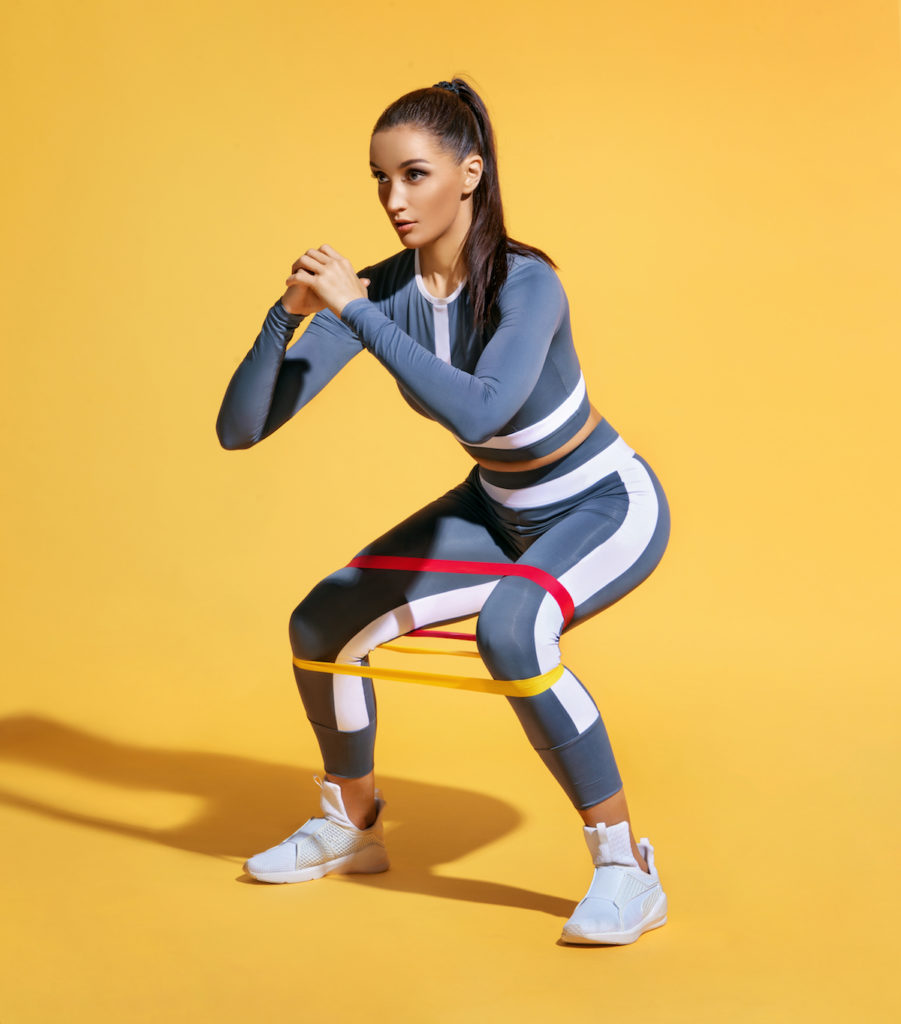 Instructions
Stand straight with your feet slightly apart and arms stretched out in front of you at shoulder level. This will help to keep your back straight.
Bend your knees and start lowering your body slowly. Keep your back and head upright and make sure that you don't round your back.
Continue to lower yourself as much as you can and hold the position for two to three seconds.
Slowly come back up and repeat this exercise 15 to 20 times.
Hamstring Curl
This workout requires the use of a resistance band. It works the hamstring and builds strength. It is also good for the back and hips.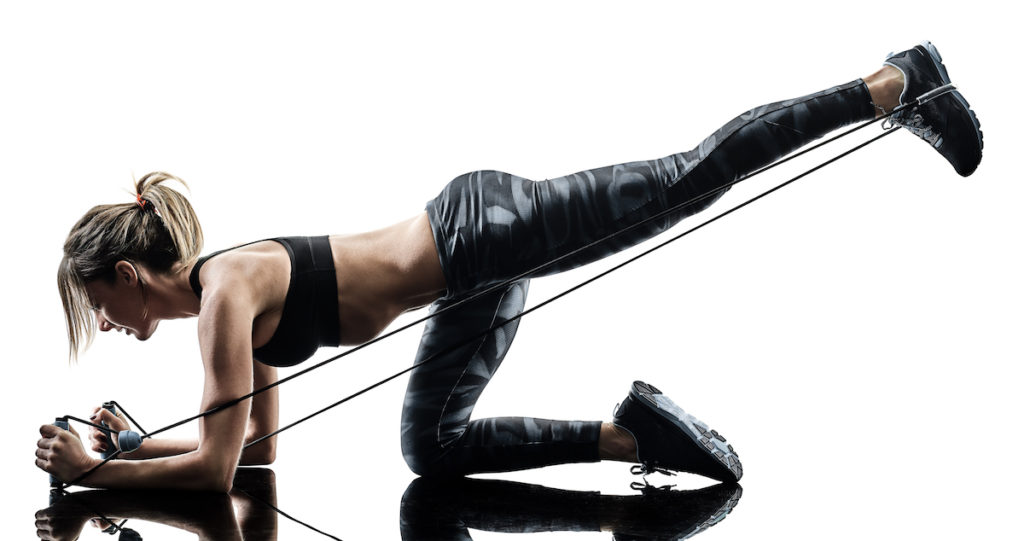 Instructions
Place the resistance band on one ankle and hold it in place by anchoring it against a post.
Lay down on the floor on your stomach. Keep your face down and arms crossed under your face.
Start curling your leg towards your hips and put pressure on your glutes.
Hold this position for a few seconds and repeat with the other leg.
Still struggling to reduce cellulite even with killer hamstrings? Try adding body contouring to your routine to give cellulite an even bigger knockout!